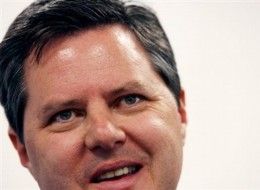 Jerry Falwell Jr. came to Wall Street this week to fulfill a dream of his father's. Twenty years ago, Falwell Sr., tried to take public a piece of the Christian college he had founded. He cut a deal with a major investment bank to package a taxable bond offering to pay off $55 million in university debt.
Liberty badly needed the money and investment bankers were sure the bonds would sell. The markets did not agree. Few buyers had any interest in purchasing debt from a fundamentalist Christian university, no matter how famous its founder was. The deal fell apart. It was just one of many financial rapids Falwell hit as he built his religious empire, which I describe in my business biography of Falwell.

But this time it was different. Liberty's new education bond offering was rated AA by Standard & Poor's — the kind of ranking a Microsoft or Google might get. Credit analysts like Liberty because it's a growth business, breaking enrollment records year after year.

Sitting in the foothills of Virginia's Blue Ridge mountains, current residential headcount is 12,155 (up 39% over the past 5 years). Online enrollment is 42,868, a 10-fold increase over the same period. One driver of growth: U.S. military members here and abroad (16,000 are currently enrolled at Liberty). In fiscal 2010 the university will run a $145 million surplus.

After meetings this week at lead underwriter Morgan Stanley, Jerry Jr. and entourage headed for the floor of the New York Stock Exchange. There they watched buyers snap up $120 million in tax exempt bonds in a matter of hours. "We sold out the entire issue, I'm stunned," said Jerry Jr. yesterday. The money will be used to pay down Liberty's existing debt and finance construction of a new campus library.

Don't be surprised to see private, nonprofit universities like Liberty get more respect these days. Public, for-profit juggernaut Apollo Group is under scrutiny from regulators over ballooning student debt and low graduation rates. The national student loan default rate is 7.1%; Liberty's is 3.6%.
VIA FORBES
Comments
comments